Look Who's Promoting 'Knuckle-Dragging Radical-Feminist Agitprop'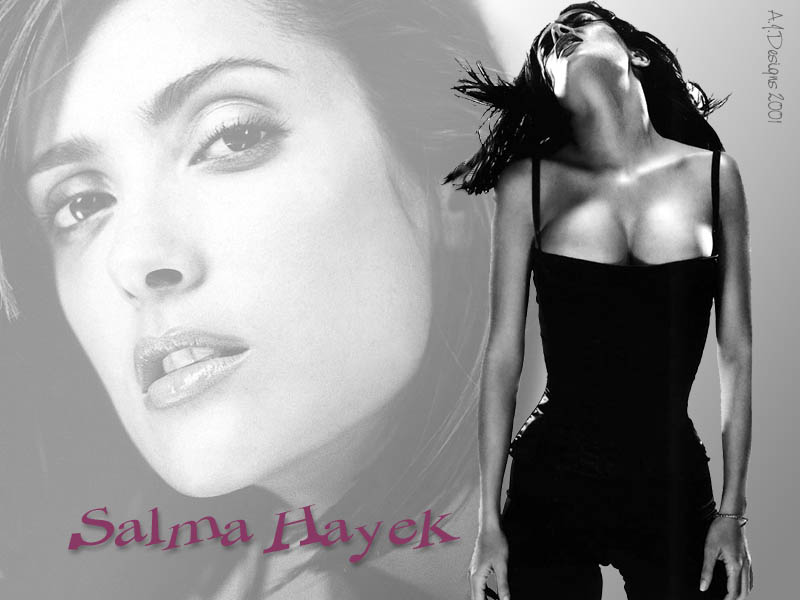 And Hear This: Avon's Calling!
Salma Hayek attended the 2003 Oscars as a best-actress nominee for her career-turning role in
Frida
, a film about Frida Kahlo, the Mexican artist with a mustache. Shortly after, cosmetics giant Avon signed Hayek as its new global face of the company (no doubt leaving Nair and Zip Wax pouting). One of the key components of Hayek's relationship with Avon has been her work with the related Avon Foundation, a 501(c)(3) public charity, to develop and promote a new domestic violence program to which Avon has committed to donating $1 million over three years.
In 2005 testimony to the Senate Judiciary Committee in support of the reauthorization of the Violence Against Women Act, Hayek told senators in part:
Domestic violence, sexual assault, dating violence or stalking shatters our society. Instead of having a relationship of love and respect, the victims of these crimes are betrayed by jealous and controlling violence of their intimate partners. These are stories that should not happen in the United States or anywhere else in the world. The United States has been -- and should continue to be -- a leader in reducing these crimes.

This is not a subject I had much personal experience with -- until I learned that a friend of mine was being beaten by her husband. Though I tried, I was not able to convince her to leave her husband -- even though I knew, and she knew, what kind of damage domestic violence was causing her. At the time, I considered that a personal failure.

I was completely outraged that women could endure such pain. I could not help my friend, but I decided I could help others. I visited domestic violence shelters and listened to the stories of other battered women. I saw the impact that domestic violence had on their children. I began to see why it was so hard for them to leave.
So, Hayek told the senators, she joined the Avon Foundation in its Speak Out Against Domestic Violence campaign in 2004. "I began speaking in public about this crime because I believe that we all have an obligation to help save our friends' lives," she said. (The full text of Hayek's testimony is available at judiciary.senate.gov.)
Earlier this year, in addition to her work with the foundation, Hayek personally donated $25,000 to a domestic violence shelter in her hometown of Coatzacoalcos, Mexico and another $50,000 to a shelter in her homeland's northern city of Monterrey.
Skin-So-Soft, Yet Subversive
"Avon Products, Inc. is a grassroots, woman-to-woman network that reaches the homes and hearts of women around the world," says Avon Foundation president Kathleen Walas. Founded more than 50 years ago, the Avon Foundation's mission is to improve the lives of women globally. Its current two key areas of focus are the fight against breast cancer -- the Avon Breast Cancer Crusade, launched in 1992, has raised and awarded more than $450 million worldwide for access to care and finding a cure -- and support for woman's empowerment programs, including women's economic advancement and working against domestic violence.
The Speak Out Against Domestic Violence program focuses on education, awareness and prevention programs, and provides support to victims. Aside from donating money directly to shelters, probably the biggest part of the program involves grassroots education and awareness through Avon's sales representative network. In the United States, for example, Avon's 650,000 U.S. sales representatives have distributed a free domestic violence brochure -- available in English and Spanish, and online as well -- to their customers. (Avon has more than 5 million sales representatives worldwide -- it is the world's largest direct seller -- who call on customers in more than 100 countries.) The foundation also is developing model domestic violence education and support programs at Avon's regional facilities across the United States and in partnership with Avon facilities worldwide, and is producing public service announcements about the issue.(More inforation is available at avoncompany.com.)
Avon Lady: Man-Hater?
Interestingly -- and probably tellingly -- men, if not feminists, have taken notice already. To read a piece in mensNEWSdaily.com last month by David R. Usher, cofounder of the National Coalition for Fathers and Children, you'd think that all Avon Ladies had stopped waxing their mustaches. "Avon is spending millions perpetrating misandry in American culture," Usher wrote, taking these women quite seriously and calling for a boycott of Avon products. "The Avon Foundation strongly supports [the Violence Against Women Act], and has a number of pamphlets and programs promoting knuckle-dragging radical-feminist agitprop."
How many feminists are interested in the ways common women -- apolitical women, or maybe women with "false consciousnesses" -- are linked to other women in large networks? Especially when the common linkage is via an "evil" Fortune 500 "capitalist" cosmetics giant (promoting woman-hating and self-loathing) like Avon? The joke of it is that the Avon Foundation had been doing such charity work to better women's lives for some two decades before the Second Wave discovered Sisterhood. What's more, Avon has a corps of more than 5 million active sales reps worldwide, going to women door-to-door! If the feminist movement ever aspired to such numbers it certainly doesn't now. Frankly, this
is
a situation ripe with radical potential; there are several aspects of this story that are worthy of further feminist exploration (not the least of which is Salma Hayek, more power to her). And let's face it: Avon has long been ready for its closeup.